LOTUS Plush Weighted Blanket is ultra soft!
---
A weighted blanket is a lot like getting a firm but gentle hug — except you don't have to bribe your roommate or significant other to give you one. Even better, you can get the benefits just about anywhere, from the sofa to your bed.
---
Until you've experienced insomnia, it's easy to dismiss it as a mere bump in an otherwise smooth road of easy sleep.
While your insomnia might not drive you to create an underground boxing club, it can definitely interfere with your life. Research has shown that a form of therapy called deep touch pressure stimulation promotes the release of serotonin, a chemical that regulates sleep.

Weighted blankets provide this firm but gentle pressure anytime you need it, which means lots of blissful Zs.
---
When you feel down, it can sometimes seem like you'll never feel "normal" or happy again. While it's normal to feel grouchy or irritable, researchers know that some bouts of sadness are caused by chemical changes in the brain. For example, if your brain isn't producing enough serotonin, it could actually impact your emotional health.
Fortunately, deep touch pressure stimulation has been shown to boost the production of serotonin. There's also evidence that deep touch pressure reduces cortisol (stress) levels.
Even better, you can get this therapy at home (or just about anywhere) with a weighted blanket or wrap.
---
Not everyone who experiences bad sleep has insomnia. Sometimes, fatigue is simply the result of poor sleep quality. While it's important to get the right amount of sleep, it's also important to make sure the sleep you get is truly restful and restorative. Some experts refer to sleep quality as sleep hygiene.
One way to improve your sleep hygiene is by using a weighted blanket. Because deep touch pressure stimulation boosts serotonin, sleeping under firm but gentle pressure can help you fall asleep faster, sleep longer and wake feeling more rested.  
Addresses Symptoms of PTSD
---
Post-traumatic stress disorder (PTSD) is most closely associated with veterans who have experienced combat. However, PTSD can affect anyone who has suffered through a traumatic or stressful event.
Mental health professionals often see PTSD in people who have been involved in bad car accidents or a physical assault. Basically, any stressful or traumatic experience can trigger PTSD symptoms.
Size & Weight Recommendations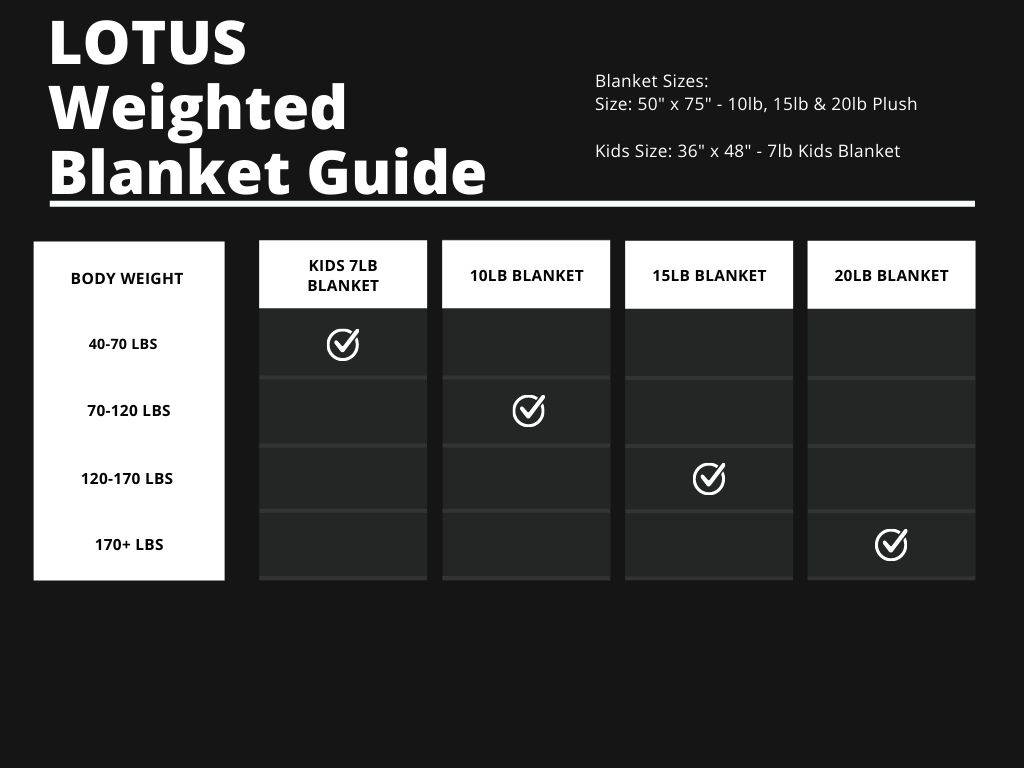 The LOTUS weighted blanket (and outer removable covers) can be washed in your machine on a cool, gentle cycle with a small amount of liquid detergent.

Place the outer cover on tumble dry on a cool setting until slightly damp, and hang to complete the drying process.
Inner weighted blanket - hand wash only
Once you receive your blanket, you have 100 nights to try it out.
The LOTUS weighted blanket uses deep touch pressure stimulation to help you relax and drift to sleep. However, it can take some time for your body to completely adjust to your new weighted blanket.
We recommend that you ease into it by using it a few hours at a time (while watching TV, reading a book, etc...) before using it for a full nights rest.
We highly recommend you sleep with it for at least a week to give your body a chance to adjust. If for any reason you are not satisfied with the item, ship it back to us and we'll refund you 100% of your purchase price.